Ellie Holcomb To Perform at Ryman Auditorium August 19; New Song "Color" Available Now
Written by on

ELLIE HOLCOMB RELEASED A NEW SINGLE AND MUSIC VIDEO, "COLOR," FROM THE FORTHCOMING ALBUM CANYON

ELLIE HOLCOMB WILL MAKE HER SOLO HEADLINING DEBUT AT THE HISTORIC RYMAN AUDITORIUM ON AUGUST 19TH, TICKETS ON SALE FRIDAY, JUNE 18TH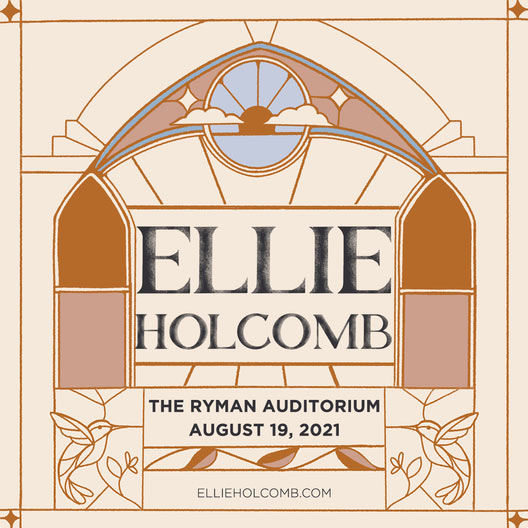 NEWS SOURCE: Merge PR
June 14, 2021
NASHVILLE, TENN. (JUNE 14, 2021) 
Singer-songwriter 
Ellie Holcomb
 released a new song, "Color," from her forthcoming album 
Canyon
, which is available later this month on June 25th. Along with "Color," Holcomb released another breathtaking music video for the song that was filmed at Big Bend National Park and directed by Shelby Goldsmith. The song was co-written with Bear Rinehart of NEEDTOBREATHE. Click below to watch this stunning video and 
here
 to listen to "Color."
"I hope it helps people open their eyes to the presence and beauty of God that surrounds us in both our most ordinary and mundane moments AND in our most broken moments," shares Ellie Holcomb. "I wrote the bridge of this song about my mom's story. She didn't grow up in the church at all, but one day in 7th grade, as a group of girls were gossiping in the hall, one of her friends walked away. My mom followed her and asked her if she was ok, and mom's friend replied. 'I'm good, I just love Jesus and don't think it's very loving to talk about others behind their back, but I knew that I'd just join in if I stayed there.' My mom had two responses: first 'Who is Jesus? I've never heard anyone talk about him like that?' and secondly 'Will you be my best friend- you are amazing?!' Because of this friend and her family, my mom encountered the living God, and her whole world went from black and white to 3D and COLOR."
Holcomb continues, "I'm so grateful for the love of God and for the way He meets us in our tears, our sorrow, in the sun that rises golden each morning, in the field of wildflowers, in the laughter of a friend we know, in our darkest nights. I'm so grateful that the truth isn't just black and white. Truth is embodied in the person of Jesus, a person of color, who walked upon this broken and colorful world, and who broke for us so that we could know the beauty of being broken and beloved."
Her debut radio single from 
Canyon
 is "I Don't Want To Miss It," which is currently in the Top 35 on the Billboard Airplay chart and Top 25 the AC Indicator chart with 33 stations on the song. The song has 864k global audio streams to date and the 
official video
 has more than 76k views on YouTube. 
Today it has been announced that Ellie Holcomb will headline the historic Ryman Auditorium on August 19th. This will be her solo headlining debut for the famed venue. Tickets for the show will go on sale this Friday, June 18th, 
here
. 
"The Ryman is one of my favorite music venues EVER and it holds so much of our family's history (it's where Drew and I went on our very first date, and our son Rivers took his first steps backstage!)," explains Holcomb. "I am SO EXCITED to be playing my new music in such an iconic venue."
Also, it was recently announced that she will join Lauren Daigle for her World Tour on select dates in September. She will also appear with Drew Holcomb & The Neighbors for their own famed festival, 
Moon River Music Festival
, returning in September. Follow Ellie Holcomb on socials to get updated tour dates as they are added and ticket information.
About Ellie Holcomb: "A deeper sorrow, a higher hope; to be broken is to be human," Ellie Holcomb says to sum up the content of her latest album, Canyon, the third full-length solo project from the singer-songwriter. For eight years, she recorded and toured full-time with her husband's band, Drew Holcomb and The Neighbors, before stepping off the road when her first child was born. Her solo debut, As Sure As The Sun (2014), landed her a Top 10 hit at Christian radio with "The Broken Beautiful" and a GMA Dove Award for "New Artist of the Year." Her critically-acclaimed sophomore LP, Red Sea Road, followed in 2017. In subsequent years, Holcomb has released two children's books – each with a companion EP of original music written specifically for kids, the second of which earned her a Dove Award for "Children's Album of the Year," in 2020. 
###

For more info on Ellie Holcomb, visit the JFH Artists Database.


---