---
Exclusive Interview with Former White House Press Secretary, Kayleigh McEnany
Written by on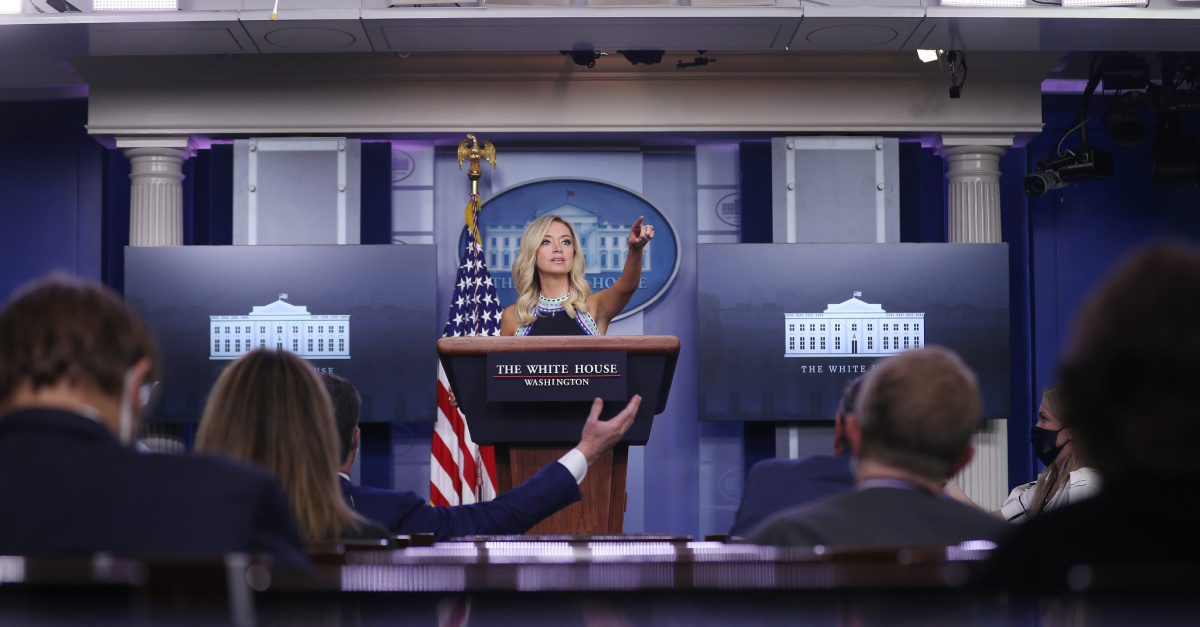 Kayleigh McEnany, as former President Trump's Press Secretary, has occupied what many would call the toughest job in Washington, DC. McEnany is now the co-host of Fox News Outnumbered, where she appears ever-prepared and ready to go. In a rare exchange with Christian headlines, McEnany focused on picking up her child from school while simultaneously multi-tasking and answering questions. McEnany knows her ability to do so comes from her relationship with Jesus. When asked, she points to watching her parents walk with Christ. She felt called to enter the fray of politics. 
McEnany: I think when you have a passion for something, it shows, and I've had this strange love for politics since the first grade. I say strange because it's not typical to have a love for politics as a first grader, but I did. I had this passion in my heart, and I loved the political process. That same passion prevents preparation from feeling like a chore. It's fun, and I enjoy it. Secondly, I learned discipline in my preparation from my time overseas at Oxford for a year. There, you have to defend everything you write. You essentially write a thesis or a short paper, read it out loud, and then have to produce footnotes to answer, 'What's your source?' My time at Oxford grounded me. 
CH: Looking back at your incredible career, is it what you thought it would be?
McEnany: Yes and no. Yes, because I knew I loved politics and wanted to be involved in it in some way, shape, or form. When I was in college, I did an internship at Fox News, which became a new component of the same passion. You know, what we talk about in media is often politics. 
CH: Did you see yourself as the White House Press Secretary?
McEnany: Yes and no. I knew the field I loved, but I never set my sights on being the White House Press Secretary. I wanted to run for office or be involved on Capitol Hill, but I had never chosen that job. It fell into place. I interned in the Office of Media Affairs in the Bush White House. I'll never forget watching Dana Perino give a press briefing. I had no clue that I would be the one giving a press briefing ten years later.
CH: You're very open about your faith. Where does that come from? And why have you decided to put it front and center?
McEnany: My dad always talked about the importance of having a worldview and would ask what mine was. It was shaped by attending a Southern Baptist Church, where I gave my life to Jesus Christ at a young age. My worldview comes from my faith, which is very important to me. 
CH: Is there one key moment or story that helped ground you in your Faith? 
McEnany: Ground zero principle number one is my faith, which was very much impressed upon me at a young age by the Rachel Joy Scott and the Columbine shooting. It's one of the first current events I remember. I remember many others, like the OJ Simpson trial and critical moments. I was a young girl, and to hear about Rachel Joy Scott, who said that she believed in Christ and lost her life because of it, really stuck with me. I read through her journals later in life and got connected to her father, Darryl Scott. Reading her journals as a young teenager, it became very clear that she was outward about her faith. And without a doubt, her boldness encouraged me to be bold in my faith.
CH: How did your faith sustain you during the Trump administration, especially on January 6th? How did your faith guide you through that?
McEnany: It was the hardest day in my tenure in the White House. Knowing you have access to the living Savior at any moment, during hard times and the good days, is essential to me. The president of the United States getting COVID-19 was another very difficult day because it was so new, and we didn't know what would happen. Jesus Christ guided me through every moment in the White House. Jesus gave me wisdom and strength. Knowing I have access to that power- the greatest power on Earth- is comforting. On a personal note, the Pences are just incredible people. I remember being so nervous before the day of my first press briefing, May 1st, 2020. One of the things that gave me a lot of solace that day was former Vice President Pence. He motioned towards me with praying hands right before my first press briefing and said, I've been praying for you.
CH: Did you enjoy the assignment of Press Secretary? 
McEnany:  I remember getting the call from President Trump. Considering the digits displayed, I knew it was probably a call from the White House, but I did not know it was him. When I answered, President Trump asked me to be his press secretary. It totally took me by surprise. I said, 'It'd be the honor of my lifetime.' That was an important call, a great call. 
But the most important call I've ever received in my life was after I left college. I was already a Christian at this point. I came to live in New York City to take my first job at Fox News. I was just a single girl living in the city, and that can be a little sad and lonely. My pastor here in the city said, 'You know, Manhattan's full of millions of people, but it can feel like the loneliest place on planet Earth.' Well, it did at one point. I remember going back to my apartment and thinking, 'God, if you're out there, I need to hear from you.'
My mom and dad weren't answering. No one was answering. I said, 'Christ, if you're there, I need to hear from you.' My phone lit up with the number I did not know. I answered, and it said, 'This is the Journey Church. How can we pray for you? We feel like we need to pray for you.' That call brought my faith from my head to my heart in a very real, forever-changing way. From that moment up to my time at the White House, if I was having a bad day or a bad day for the country, all I needed to say was, 'Christ, give me wisdom. Show me what to do,' and He would do it.
CH: Do you like being a part of the Fox News Family? 
Fox is family to me. I began my career here. I worked for three years as a producer, and to come full circle and work with so many of the same talented and wonderful people is an honor. I openly wear my cross and share my faith; they give me the space to talk to millions about it. Fox allows me to share my faith; it's like coming home and being at Fox. 
CH: How do you handle your critics? 
McEnany: I was given a great piece of advice: remember, behind every question, there's a questioner who has a reason for the way they're acting, who has hurts and troubles in life. Remember that behind the question is a questioner, a human being, and someone who helps you keep your cool. It can be tough, it can be hard, especially when you're taken out of context, but I try to remember that. It also helped me realize that every moment is a mission opportunity to love for Christ. 
Photo Courtesy: ©Getty Images/Chip Somodevilla/Staff
Related podcast:
The views and opinions expressed in this podcast are those of the speakers and do not necessarily reflect the views or positions of Salem Web Network and Salem Media Group.
Related video:
Thumbnail courtesy of Canva.com & Stock footage & Music courtesy of soundstripe.com Voiceover powered by Speechify
Read the full devotional here:
A Prayer during National Unrest
---