---
Hollywood actresses recount stories of God's divine intervention
Written by on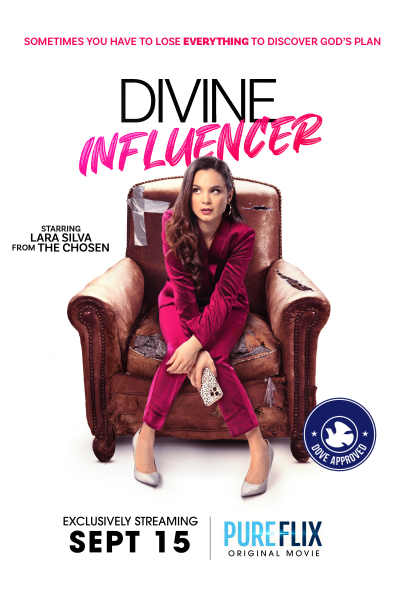 Director Shari Rigby and actress Lara Silva have been successful in Hollywood in recent years, and the entertainers are giving all the credit to God, who divinely intervened on their behalf when no one else believed in them. 
Rigby ("Overcomer") is the director of the new film, "Divine Influencer," which will be available to stream on Sept. 15 for its premiere on Pure Flix. Silva ("The Chosen") is the lead actress in the movie, and along with coming together for this inspiring film, the ladies are sharing their testimonies about how God stepped in to help them become influencers in the entertainment industry. 
Silva, one of the stars of the history-making TV series "The Chosen," said she saw God's sovereign hand on her life the moment she decided to step out and become an actress. 
"Before I even made the decision that this is my dream and this is what I want to do, the devil was already attacking me, telling me that 'It's too late to start. Like you're never gonna make it. What do you think you're doing? This is crazy,'" Silva shared in a video interview with The Christian Post. 
"But God was so much louder and spoke so clearly over me," she continued. "When I started seeking Him, I realized my passion and what I wanted to do [was] birthed. The more that I sought after Him, the more doors would open; some would close, but I realized that they were for a reason. He was protecting me."
Lara plays a young influencer who ends up going from riches to rags in "Divine Influencer." The Brazilian native said it's "mind-blowing" to be where she is today in her career.
Rigby's story is very similar to Silva's. The successful actress and filmmaker started her career later in life and is now making inspiring entertainment that's impacting the masses.
"I remember making the decision to go to Hollywood, and everybody in my family thought I was absolutely crazy. Going to Hollywood, I was 39, almost 40 years old at the time, and so everybody was like, 'You're never going to get a job. You have no idea what you're doing; your marriage is going to fall apart,'" the "October Baby" star told CP. 
"But what I remember was that God was just calling me to this moment. So, I think that it was being obedient. That was [really] a divine appointment because His calling has birthed so many things," Rigby declared. 
Rigby started creating this new film in 2015 after working with the outreach facility The  Dream Center in Los Angeles. Although she is able to impact people with her talents, she sees that what God does through the work is much bigger than acting. 
"As we started to really work through this script and just the story in general, we started to realize that one, for such a time as this, and two, this is something that we should be tackling more often so we can actually talk about how, as Christians, we can actually influence the culture for Christ. So it's an important topic," she explained. 
"Divine Influencer" follows "an entitled influencer [who] is humbled by losing everything. She begins working at a homeless shelter so that she has a place to live. With God's help, she discovers her true purpose comes from serving others," the film's synopsis reads.
Silva revealed the movie was something she personally needed in her own walk with God. 
"I think that it was something that God knew I needed. With filming 'The Chosen,' it is totally different than 'Divine Influencer,'" Silva told CP. "I just learned so much about my own faith, who I am and what serving really means. It's just been so fun."
The movie features moments where the cast laugh, cry and dance. Both Rigby and Silva celebrated their time together on set. In the three weeks of filming, they recall becoming "like family."
Rigby said her primary goal is to see the film impact viewers as much as it impacted Silva.
"It's my heart to see women grow, and through these movies, if we're actually really creating content that matters, then they should influence us in a way that really speaks to who we are. They're ministry-based more than anything else," the Women in My World founder concluded.
Alongside Silva, "Divine Influencer" features Jason Burkey ("The Walking Dead"), Jesse Metcalfe ("John Tucker Must Die") and Micah Lynn Hanson ("Like Arrows"). 
For information on the film, visit the film's website.
Free

Religious Freedom Updates

Join thousands of others to get the FREEDOM POST newsletter for free, sent twice a week from The Christian Post.
---