---
Man thanks God for surviving shooting near his home
Written by on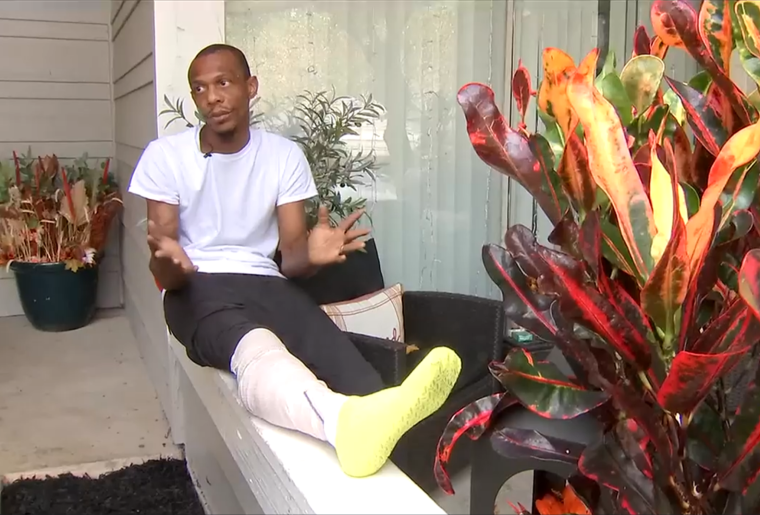 A 42-year-old recently married father who was shot as he took out the trash while cleaning his home in Norcross, Georgia, is thanking God for helping him escape with his life.
"I'm just glad to be alive. My family could be making my funeral arrangements," Michael Thomas told WSB-TV. "Like I say, God was with me."
Thomas, who was shot in the right leg, told the news outlet that he was taking trash to a dumpster at the Grove Point Apartments on Jimmy Carter Boulevard on Sept. 9 when two young men approached him.
"They said, 'Oh, we just sitting here chilling.' I said, 'Well, if y'all don't mind, just move off in front of our breezeway.' … And they were like, 'Alright, but you don't know who you're talking to,'" Thomas told Fox 5.
"The next thing I remember is being hit in the head. I grabbed the person, the biggest person, and we fell on the ground," Thomas recalled to WSB-TV. "And he was hollering to get him off me. After that, the guy shot at my head. Thank God it missed."
Thomas said the bullet missed his face, but it ricocheted off the pavement and grazed his face. He said the attackers were determined to hurt him, and one of them shot him in the leg.
"He then turned around and shot me in the leg twice," he said. "The bullet went through my right leg and then into my groin area."
Witnesses told Fox 5 that the men pistol-whipped Thomas before shooting him. He further noted to the network that the man shot at his head twice. He also recalled a third man being with his attackers.
"He tried to shoot me in my head twice, but both of the bullets bounced off the rock. And the third person that was with them took off running. I guess he didn't know that was going to happen, and then he turned around and shot me in my right leg twice," Thomas recalled.
Thomas' attackers did not steal anything. Gwinnett Police Cpl. Ryan Winderweedle said the shooting appears to be a "crime of opportunity."
"This seems to be a crime of opportunity," he said. "I don't know of any other prior at this particular complex."
Thomas, who now has to use a walker and still has a bullet lodged in his leg, said he was traumatized by the attack because he simply asked the men to get out of the way so he could get rid of his trash.
"You won't be expecting something like that to happen because you asked somebody to move out of the way," he explained. "I get sad to sit on my porch because I feel like I'm not safe."
Free

Religious Freedom Updates

Join thousands of others to get the FREEDOM POST newsletter for free, sent twice a week from The Christian Post.
---