---
Miss Kay details hold Satan had over Phil before faith in Christ
Written by on
The darkest years of Phil and Kay Robertson's life will be told in the upcoming film, "The Blind," and the matriarch of the famous Duck Dynasty clan is sharing her struggles in detail to help other families learn how to escape Satan's grip. 
Premiering in theaters nationwide beginning Sept. 28, "The Blind" will take viewers on a raw and powerful journey into the early years of Phil and Kay Robertsons marriage. The film highlights their love story, their years of great hardship, and God's redemption in Phil's life.
Despite a decade of challenging times where Robertson and her husband were at great odds due to Phil's wild behavior, he eventually surrendered to Christ. His coming to Jesus moment changed the course of his family's life forever and now all of his children – Al, Jase, Willie, Jep and his daughter, Phyllis (from an extramarital affair), all serve Jesus and are successful and outspoken believers.
"It was hard, and you could tell that the enemy was coming after us, all of us. But I'll tell ya, I felt like the greatest thing God ever gave me besides, of course, my husband, would be my children, and for them to hold tight and not let the enemy destroy their marriages or themselves. I'm so proud they were all so strong," she told The Christian Post.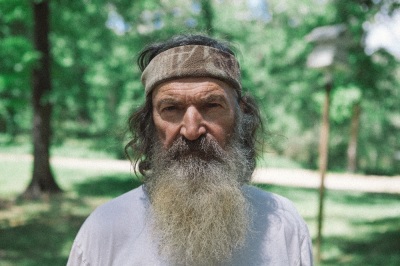 Phil's redemption was a big turning point in their lives, but Robertson's ability to suffer long and forgive her husband in the midst of it all is what kept the family together. Without her perseverance, there wouldn't have been a popular "Duck Dynasty" series or the family's thriving Duck call business. 
The Robertson family shot to fame after their reality show "Duck Dynasty" launched on A&E in 2012. The series, which ended in 2017, showcased the family's "Duck Commander" business and their lives. 
Kay has long said that her ability to forgive was instilled in her as a child.
"It started out when I was a girl, I stayed primarily with my grandmother, because my parents owned the store and were working all the time. We would sit on the swing and she told me life lessons every day of my life," Robertson said. "She said in my marriage, I was gonna have to fight for my marriage, which I thought was ridiculous, 'Why would I fight for my marriage?' And yet it played out exactly as she said. 
"She kept telling me, 'You know that God is for you and if He is for you, you can always win. But the devil is going to make sure that you do suffer and go through hard times because he wants to pull you back to his side,'" Robertson recalled. 
Those valuable life lessons as a young girl are what helped her "hold on" to her marriage for 10 long, tumultuous years as she endured Phil's verbal abuse, volatile behavior and womanizing. 
"Those bad years were 10 years. That was 10 years that I waited and went through the bad to get to the good," she noted.
"The minute I was ready to give up, that was the minute [God] decided to come right in and go to work. Our marriage and our lives were saved, and our kids have turned out to be great kids," Robertson testified. "I know every mother thinks that, but every one of mine, in some way, they share the Lord, they're helping people."
Regardless of how many people tried to convince Kay to leave Phil, she knew her commitment to marriage before God was for a lifetime.
"I made a vow to stay till death do us part and I'm standing by it. Yes, I'm suffering, but I believe that God will work in Phil's heart to change him. I don't know when, I don't know how, but I believe He will, and He did," the Louisiana native recalled. 
Now, over 40 years since Phil gave his life to Jesus, Robertson said her family is all she prayed for. 
"It is wonderful, never having to worry about him [anymore]," she said. 
Robertson is the grandmother of Sadie Robertson Huff, a well-known young Christian speaker. The matriarch said her grandchildren and youngest son, Jep, still find Phil's story unbelievable because of how different he is now.
"It's really hard for the grandchildren because they only know the good Phil. Jep is seven years younger than Willie, so Jep never knew the bad Phil [either]. When we'd talk about it, he just didn't want us to say that. And I said, 'Yes, he did. Satan had a hold of him but now God helped him get out of that and he's a good man,'" she told CP. "I think the grandchildren can't imagine him being that other person. They've seen it. They got the movie. It was hard for them to see him in that condition."
Robertson ended her interview with a message of encouragement for anyone who finds themselves in a similar situation she was in four decades ago.
"There's not a greater thing on this Earth. But see, it took patience, it took time, it took waiting. Now, I don't want any woman to think that if she goes through abuse or anything like that. The only time Phil ever did that was a time he got a hold of some moonshine which is horrible. He was as crazy as anything you ever saw. That was the only time that he ever physically hurt me. But he was like a crazy man and nobody should ever partake of that," she warned.  
"Other times he could be just mean with words. I know people know what that means. But yet, you just can't give up on your marriage because what God joins together is supposed to be together," Robertson declared.
"Sometimes we don't understand why it takes so long to get to the good place. But in my case, I'm glad I was patient for 10 years. I'm glad I took our boys and talked to them about the reason their dad was like that," She assured. "They did not hate their dad; they hated the devil that was in their dad at the time. That's another thing that's very important for women to do. Don't teach them to hate their dad. Don't do that. Because it's not them. It's the devil that's in them."
The Robertsons have known each other for 64 years and the loving wife is overjoyed to see the fruit of her and Phil's faithfulness in God after surviving their many past challenges, and she wants others' lives to be moved by the new film. 
"I'm so glad that people are getting to hear about this because I want marriages saved. I want people to come to Jesus, and that's what we want for this film. Yet, it's not easy to open up your whole inside. It's like letting everybody see your guts, the hard part," she confessed.  
"Phil, it's especially hard for him because he has to relive the hardest part of his life that he's embarrassed about now. Sometimes it hurts to show the inner self of you, but if you do it for the good of others and the glory of God, then it's worth it." 
"The Blind," directed by Andrew Hyatt ("Paul, Apostle Of Christ," "Full Of Grace") features actors Aron von Andrian ("Dodger"), Amelia Eve ("The Haunting of Bly Manor"), Brielle Robillard ("The Lake"), and Matthew Erick White ("Station 19").
For more information about the movie, visit the film's website.
Free

Religious Freedom Updates

Join thousands of others to get the FREEDOM POST newsletter for free, sent twice a week from The Christian Post.
---