---
Most Americans say Confederate memorials should be left in public
Written by on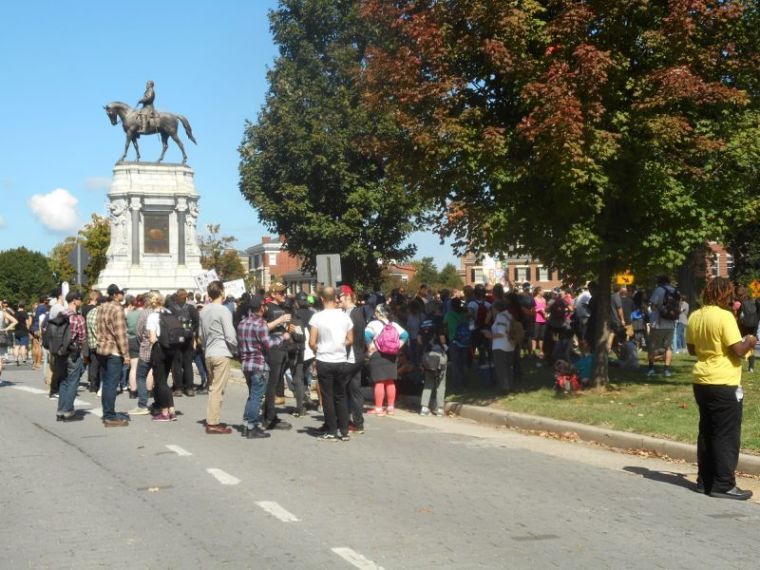 Despite ongoing racial reconciliation efforts in some churches and society in general, a yawning divide still endures between black and white Americans over how Confederate memorials should be treated, a new study from the Public Religion Research Institute finds.
The study report released last month jointly with the organization E Pluribus Unum included 26 focus groups of black and white participants in 13 southern states examining their personal opinions on Confederate memorials and the role of religion in framing conversations about race and public spaces.
A national survey was also conducted to see how the focus groups resonated with the general population.
"The white and black focus groups sharply diverged when assessing the meaning of Confederate monuments and memorials and of public spaces named for Confederate leaders or slave owners," the researchers wrote.
This divide was also reflected in the data collected in the nationwide survey on the subject.
When Americans were asked if monuments to Confederate soldiers were more a symbol of Southern pride or more a symbol of racism, 64% said they were symbols of Southern pride. Only 30% of blacks agreed, compared with 73% of whites.
A majority of blacks in the survey (63%) branded Confederate monuments as symbols of racism, while only 25% of white Americans feel the same.
"I was thinking just now [about] riding around as a boy in Richmond and seeing the statues of Robert E. Lee and all that, before I learned about who they were. I used to think those statues were so cool. So, I actually felt hurt behind it, I kind of felt like betrayed," a black man in a focus group from Virginia notes in the research.
"Me being a black man, you know, thinking that stuff was cool. How's that supposed to make me feel and look?"
Participants in the focus groups were divided when asked what should happen to Confederate memorials that are still in place today.
The participants in the national survey were asked to choose from four options to address the monuments: leave them in place as they are; leave them in place but add historical context with a plaque or some other marker explaining the honoree's role in Confederate history; remove the monuments and put them in a museum or in storage (but don't destroy them); or remove the monuments and destroy them entirely.
Nearly 70% of white American respondents chose to keep the Confederate memorials in place. Some 30% recommended keeping the monuments with no changes, while 37% suggested that the monuments remain but with added context. Another 26% said the monument should be moved to a museum, while 7% suggested that the statues be removed and destroyed.
"I would still want access to those monuments, but the information at the base would have like the full story or why this statue is here in the first place, why it was moved, what we believe now to be, why our views have changed since then, so we're not erasing, because we need to be able to learn from our mistakes," a white woman from West Virginia noted in the study.
A majority of black Americans (64%) were found in the national survey to either want Confederate memorials removed from public spaces to a museum or removed and destroyed.
Some 39% support the idea of moving them to a museum, while 25% want them removed and destroyed. Another 23% didn't mind leaving the monuments with added context, while 9% did not have a problem leaving them as they are.
"Since our founding, E Pluribus Unum has learned that symbols matter — they can support inclusion, or they can support division. This report illustrates that Confederate monuments were put up for a reason — it was the Civil war's 'Big Lie' and propaganda of the Lost Cause," Scott Hutcheson, executive director of E Pluribus Unum, said in a statement.
"As we are seeing today, the harm of such lies around our nation's history can negatively impact generations. EPU is not only committed to advocating for and amplifying the truth, we are determined to bring communities together and do the necessary work to heal these harms that for so long have held us back as a nation and people."
While black groups in the study were able to directly connect their religion to the issue of racism and the question of how to organize for change, they noted at times that their white counterparts "had often not been helpful in these efforts."
"Some black participants also shared that they believe racial segregation within Southern religious communities contributes to the difficulty of addressing racism in the wider community, because it contributes to white Christians' unwillingness to consider the perspectives and experiences of black Americans," researchers said.
White focus group members shared a lot about their religion "but generally did not make direct connections between religion and racism or the debate over monuments," the researchers added.
The report noted that a few white respondents did share that their faith leads them to have conflicted feelings about Confederate monuments and that their faith could lead them to believe that these monuments should be removed from public spaces because their presence is hurtful to black Americans.
"I think, as a Christian, and wanting to live a life like Christ, it's hard to walk through the street and see these statues of people who are being essentially idolized in our city that did things that are so against my beliefs," a white woman from West Virginia said.
The researchers concluded many white Americans simply do not understand how deeply Confederate monuments impact blacks. They noted, however, that in some cases, the views of white respondents "changed when they gained understanding."
"The evidence here shows that efforts to build bridges across the racial divide and to have discussions about redesigning public spaces and removing Confederate memorials will largely rely on conversations between individuals," the researchers said. "White people need to hear about the experiences that black people have and listen to their views on the subject. The focus groups revealed that many white participants simply did not understand how Black people saw the issue and showed that, in some cases, their views had changed when they gained understanding."
Free

Religious Freedom Updates

Join thousands of others to get the FREEDOM POST newsletter for free, sent twice a week from The Christian Post.
---