---
Slain NJ councilwoman remembered for 'abiding Christian faith'
Written by on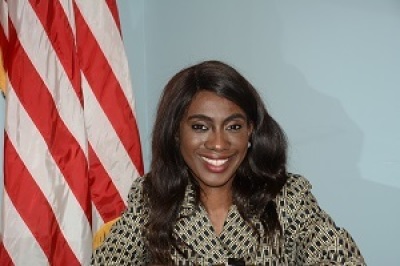 A black Republican borough council member in New Jersey was found shot to death in her vehicle Wednesday night. Colleagues are remembering her dedication and devout Christian faith. 
Sayreville Councilwoman Eunice Dwumfour, 30, was found dead just outside of her apartment in her white Nissan SUV with multiple gunshot wounds, according to authorities.
Democrat Mayor Victoria Kilpatrick expressed condolences, saying in a statement that Dwumfour was a "dedicated member of our Borough Council who was truly committed to serve all of our residents."
New Jersey Republican State Committee Chairman Bob Hugin conveyed his "horror and deepest sorrow at the senseless violence" that claimed Dwumfour's life. 
"We will remember Eunice for her steadfast dedication to the community, as well as her deep and abiding Christian faith," said Hugin in a statement. 
"We have the utmost confidence that law enforcement will bring the perpetrators of this heartbreaking tragedy to justice. God Bless Councilwoman Dwumfour and her family."
The investigation into the murder includes Sayreville Police, the Middlesex County Prosecutor's Office and the FBI.
"We are aware of the investigation into the death of Councilwoman Dwumfour, in Sayreville Wednesday evening," the FBI said in a statement shared with WABC Friday. 
"We have talked with our local law enforcement partners at the Sayreville Police Department and the Middlesex County Prosecutor's Office. Should they ask us for any assistance, we will do all we can to help their investigation."
In a statement Thursday, New Jersey Gov. Phil Murphy said the New Jersey State Police will also support the ongoing investigation. 
"Her career of public service was just beginning, and by all accounts she had already built a reputation as a committed member of the Borough Council who took her responsibility with the utmost diligence and seriousness," Murphy, a Democrat, said. "I send my condolences to Councilwoman Dwumfour's family and friends, her governing body colleagues, and the entire Sayreville community."
A native of Newark who was elected to the council last year after unseating a Democrat incumbent, Dwumfour was a single mother who had recently married a pastor from Nigeria.
"She was happy with her new husband. It seems. Happy with her daughter, and she was living the life, the American dream. She was a beautiful motivated person," former campaign manager Karen Bailey Bebert told WABC.
"I believe her daughter lit up her life. Jesus Christ lit up her life. She was very faithful and driven. She was a shining star."  
Free

Religious Freedom Updates

Join thousands of others to get the FREEDOM POST newsletter for free, sent twice a week from The Christian Post.
---