---
Super Bowl Broadcast Will Include TV Ads about Jesus and His 'Confounding Love and Forgiveness'
Written by on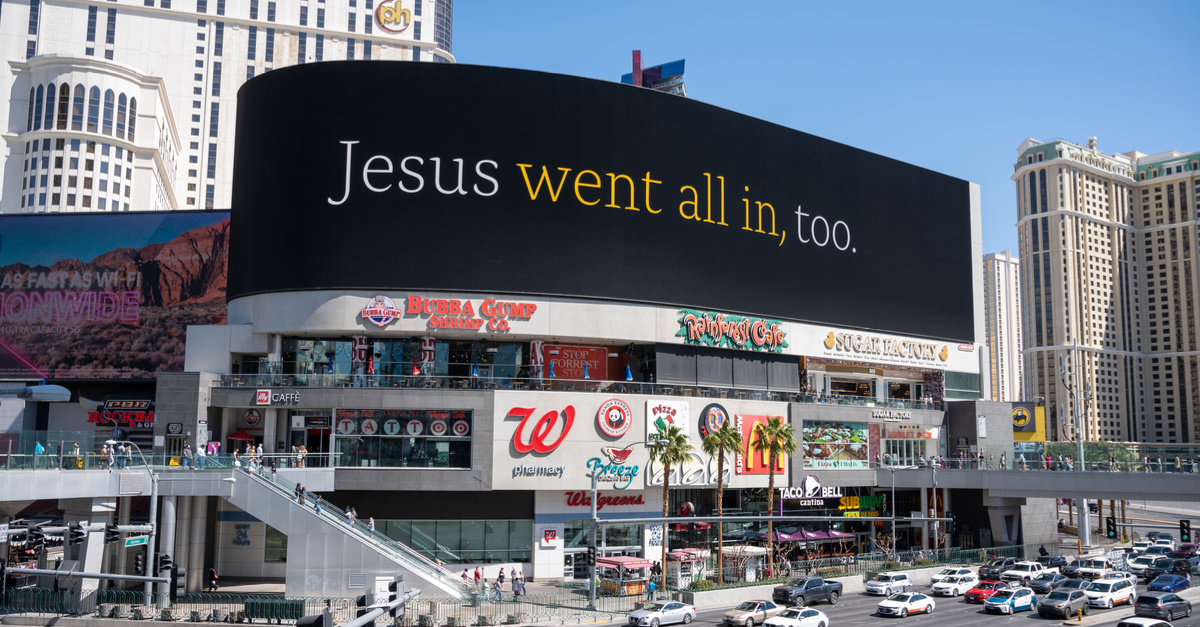 The most-watched sporting event in the United States will include commercials about Jesus this year.
The company behind the viral "He Gets Us" ads announced this week that Super Bowl 57 between Kansas City and Philadelphia – televised Feb. 12 on Fox – will include commercials from the campaign.
He Gets Us bills itself as a "campaign to reintroduce people to the Jesus of the Bible and his confounding love and forgiveness."
The campaign has reached more than 100 million people to date.
Chris Broussard, a sports commentator for Fox Sports 1/Fox Sports Radio and a spokesperson for the campaign, told Christian Headlines that He Gets Us is helping correct "misconceptions about Jesus Christ."
Too often, Broussard said, people "associate Christianity, if not Jesus, with racism, with elitism, with right-wing politics, with suburbia — and to be honest, to some degree with whiteness."
"I hope that He Gets Us can show people what the true Jesus of the Bible was like — that He was a man of the people. … that He had compassion, that He related to the poor and the downtrodden, as well as the rich and the successful. … He didn't come for just one race. He didn't just come for one class of people. He came for everyone," Broussard told Christian Headlines.
Haven previewed the ads Wednesday during an event in Grand Rapids, Mich., according to local television affiliate Wood TV.
"When you think about being in front of 115 million people – it's like you're here tonight, we're talking because of the Super Bowl – and so all of our audiences are so excited about knowing that Jesus is going to be in the Super Bowl, it creates so much energy," Jason Vanderground, the president of Haven, said, according to Wood TV. "The Super Bowl is literally a kickoff thing for people. It's not like you're reaching the finish line and going, 'We're in the Super Bowl, that's it, great, let's pack up and go home.' It's the start of something, and that's what we want people to know about."
A 30-second ad for Super Bowl 56 cost about $7 million.
"In some ways, in America, there needs to be a rebranding of Jesus to a more biblically accurate and historically accurate Jesus Christ," Broussard said. "And I think that the He Gets Us campaign does that."
The He Gets Us website says the campaign is not run by a "political organization" or "affiliated with any particular church or denomination."
"We simply want everyone to understand the authentic Jesus as he's depicted in the Bible – the Jesus of radical forgiveness, compassion, and love," the website says. "It wouldn't be hard to guess that we're led by Jesus fans and followers. People who believe he was much more than just a good guy and a profound teacher. And that Jesus is the son of God, who came to Earth, died, and was resurrected, then returned to heaven and is alive today."
Photo courtesy: ©He Gets Us, used with permission.
---
Michael Foust has covered the intersection of faith and news for 20 years. His stories have appeared in Baptist Press, Christianity Today, The Christian Post, the Leaf-Chronicle, the Toronto Star and the Knoxville News-Sentinel.
---