---
American Jews say anti-Semitism is increasing in the US: survey
Written by on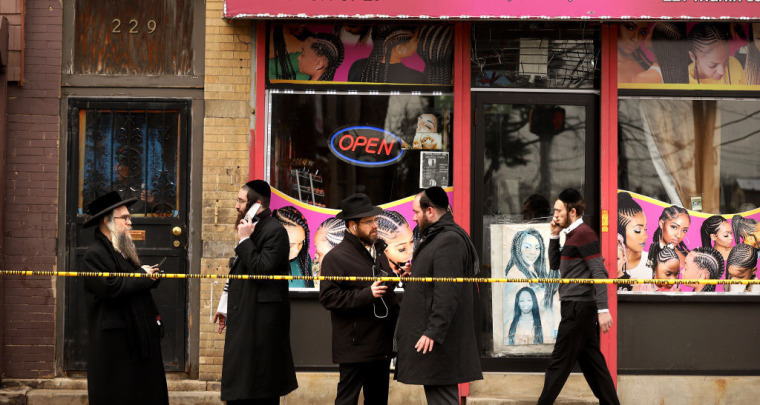 American Jews say they've seen an increase in anti-Semitism in the past five years, according to a recently released report. 
The American Jewish Committee, a global advocacy group that works with civic leaders to counter anti-Semitism and support the state of Israel, released its "State of Antisemitism in America Report 2022" last month. 
According to the report, 82% of American Jews agreed that anti-Semitism in the United States has increased in the last five years, with 43% saying it has increased significantly. Another 39% of American Jews said that anti-Semitism had increased somewhat. 
Only 2% of Jewish respondents said they believed anti-Semitism had decreased within the last five years, and 16% of participants said they believe it had stayed the same. 
Among respondents representing the general public, 47% said they believe anti-Semitism has increased in the last five years, while 15% said it had decreased. Twenty-six percent said it has stayed the same, and 13% said they were unsure.
In response to the report, Scott Phillips, chief executive officer of Passages, a group that educates Christians about Israel and the Jewish faith, called for Christians to strengthen their understanding of anti-Semitism and its history. 
"We have to educate ourselves on what anti-Semitism is now and what it has been, and really understand the magnitude of the issue," Phillips told The Christian Post. 
The Christian leader emphasized that Jesus was Jewish, as were his disciples and many important figures in the Bible, including Abraham. He added that education on biblical topics would help connect Christians to the "heart of the modern Jewish people," who are the descendants of the figures Christians follow. 
Phillips also believes Christians can help combat anti-Semitism by building relationships based on "mutual respect and understanding" with the Jewish community. 
"Obviously, there are going to be things we disagree on theologically, but there are things we do agree on," he said. "And there are a lot of shared values that we have with the Jewish community." 
"Any time you can build a relationship with another human being, you realize that they're another human being," Phillips continued. "And that they have rights and they have real feelings and emotions and understand where they're coming from, their plight, the history of their people." 
Another way Christians can combat anti-Semitism, according to Phillips, is by showing up anytime the Jewish community faces an anti-Semitic attack, demonstrating that they care as people of faith. 
The report drew from two surveys that were conducted last year. The first survey assessed a nationally representative sample of 1,507 adults ages 18 and older that follow the Jewish faith or have a Jewish background. The survey was conducted by telephone and online from Sept. 28–Nov. 3, 2022, through the SSRS opinion panel and had a margin of error for total respondents of +/-3.4 percentage points with a 95% confidence level.
The second survey collected data from a nationally representative sample of 1,004 U.S. adults ages 18 and older from Oct. 10–18, 2022, through the SSRS Opinion panel. The margin of error is +/-3.8 percentage points at the 95% confidence level. 
Regarding how much of a problem they think anti-Semitism is in the country today, 89% of American Jews said that they see it as a problem, while 11% answered that they don't think it's a problem. 
Sixty-eight percent of American adults said they think anti-Semitism is a problem in the country today. Another 24% said it wasn't a problem, while 8% answered that they were unsure. 
Overall, 26% of American Jews in the survey said they had been the target of an anti-Semitic attack in 2022, consisting of online comments, in-person remarks or physical attacks.
Sixty-nine percent of American Jews also said they were the target of anti-Semitism online or they witnessed it online within the last 12 months. A total of 85% of Jewish Americans ages 18-29 reported that they were the target of anti-Semitism online or they had seen it online at least once within the last 12 months. 
Researchers asked American Jews where they encountered anti-Semitism online or saw it happen, and most participants said the incidents took place on Facebook (43%) or Twitter (45%). 
Only 28% of American Jews said that they had reported the incidents to the social media platforms where it occurred. Forty-four percent said they did not report anti-Semitism that they experienced online to a social media platform or a Jewish organization.
Among those who did make a report, 39% said that they didn't receive a response from the social media platform where the incident happened. Sixty-one percent shared that, after reporting the anti-Semitic incident, the social media platform either removed the content or sent a personal response. 
The second survey found that 82% of American adults had witnessed anti-Semitism online, but 93% of participants did not report the incidents to the police. Ninety-six percent of American adults did not report it to Jewish organizations, 97% said they didn't report it to the social media platform, and 95% said they didn't report the incident to any authority group. 
According to an Anti-Defamation League report released in April 2022, violence against Jews had reached an all-time high in the U.S. in 2021. The ADL recorded 2,717 incidents of assault, harassment and vandalism in 2021, the highest number on record since the group began tracking anti-Semitic incidents in 1979.
Free

Religious Freedom Updates

Join thousands of others to get the FREEDOM POST newsletter for free, sent twice a week from The Christian Post.
---