---
Christians and Jews Unite to Bring All the Hostages Home Jerusalem
Written by on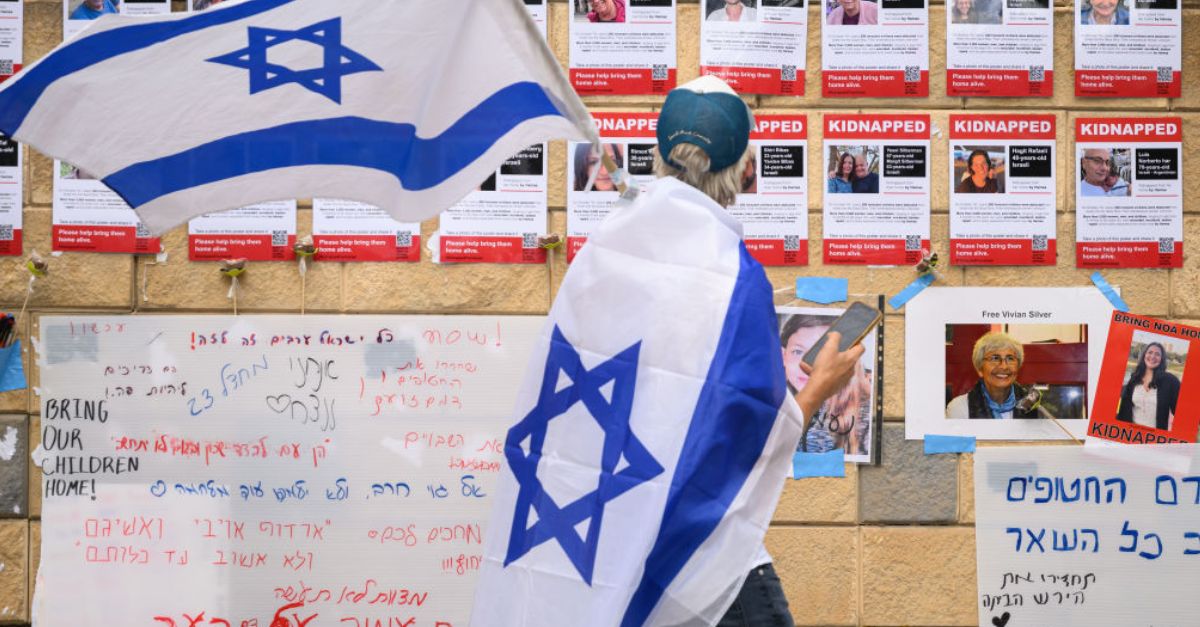 Israel, November 17, 2023…
In the immediate aftermath of the savage massacre by Hamas against Israelis on October 7, the Genesis 123 Foundation launched the Israel Emergency Campaign to provide urgent and critical support for Israelis in ways that were tangible and most impactful. 
Because the war is ongoing, the focus has pivoted strategically to respond to where the needs are greatest, and the impact can be widest. With the unique mission to build bridges between Jews and Christians, the Genesis 123 Foundation was overwhelmed with messages of love, support, and prayers from Christians all over the world. 
The Genesis 123 Foundation's president, Jonathan Feldstein, has undertaken the responsibility to share among Israelis and Jews worldwide how meaningful, and indeed historic, the support from Christians for Israel and the Jewish people is at this time. Consulting with board members, Feldstein sought to provide an easy way for Christians and Jews around the world could strengthen the growing bond and do something practical to support Israel at this time.
Initially a grassroots effort, Feldstein launched a global petition to enlist all supporters of Israel, Christians, and Jews everywhere to put action behind their prayers. The petition is addressed to world leaders in the face of mounting pressure on Israel for a ceasefire, noting that until and unless ALL hostages are released first, Israel should resist this pressure and be able to continue to carry out its military campaign, part of whose objectives are to bring all the hostages home. 
Feldstein noted, "It's urgent that we have hundreds of thousands, if not millions of people sign this now, to give Israel the strength and encouragement to resist the growing pressure, continue its military campaign, and be victorious. A cease-fire without ALL the hostages being released is not only immoral, but dangerous to Israeli troops who are trying to locate and free the hostages, and will lead to Hamas regrouping, and more death and suffering." 
Feldstein penned an article comparing the terrorist hijacking and kidnapping of hostages at Entebbe in 1976 and the situation Israel faces today. While launched just days ago, the chorus of international leaders in support of this petition has mushroomed, along with the thousands of signatures that have been compiled organically, on a word-of-mouth basis, from some 70 countries. Dr. Tony Crisp, Co-Founder/Director of Warriors-Walk.com, echoed the intended recipients of the petition, Secretary General of the United Nations António Guterres, Director-General of the International Committee of the Red Cross Robert Mardini, Heads of State and Governments of the G7 and leaders of every country which has hostages kidnapped into Gaza. 
"I, along with the Evangelical network of pastors, leaders, and churches worldwide, call for the immediate and unconditional release and return of those held hostage by Hamas. We support the Jewish Nation of Israel and the Jewish people worldwide in their righteous and just war against the barbarism of Hamas." Pastor E. A. Adeboye is the General Overseer of RCCG in Nigeria. He enthusiastically shared, "Kindly note that I will gladly promote every effort to get the hostages released…all the Churches under my influence are praying for them and for a speedy end to the conflict." 
On the ground in Israel, undertaking numerous humanitarian projects to support Israelis, Rev. Peter Fast, International CEO of Bridges for Peace, offered his enthusiastic endorsement, as he added promoting the petition high on their ministry's agenda. "Bridges for Peace has stood with Israel for over 50 years…The attack on October 7 was an effort by…Hamas, to…destroy Israel and murder all Jews. We stand with Israel in this war, all blame for the loss of innocent life is upon the hands of Hamas. We demand the release of all hostages who were kidnapped from Israel and forced back into Gaza. We call upon the International Community to not remain silent but stand on the side of morality, ethics, and righteousness, for which you exist, by demanding the return of all kidnapped hostages." 
Representing a massive American constituency based in Washington, DC, Penny Nance, CEO and President of Concerned Women for America, added, "The hundreds of thousands of supporters of Concerned Women for America (CWA), the nation's largest public policy organization for women in the United States, stand with the people of Israel in their hour of need. We urge all world leaders to condemn the terrorist attacks conducted by Hamas on October 7, 2023, as war crimes and demand the immediate release of all hostages." 
Pastor Victor Styrsky, a former CUFI National Educational Outreach Director and a veteran Christian Zionist activist, joined in the urgent call to promote the petition. "Standing with Israel is standing with God. Any moral ambiguity at this moment of history, just one generation from the Shoa, conceals the gross depravity of those who have attacked the Jewish people and those who choose to support them. May God arise for His holy name's sake." 
Underscoring how the cause is one that is black and white, good vs. evil, Pastor Becky Keenan, Founder & President of One With Israel, noted, "Global Jihad is a serious threat to the world. The October 7th attack began in Israel but will continue unless all freedom-loving people and governments stop it in its tracks. The rule of law must be enforced when violations to it are committed." 
Echoing this sentiment, Dr. Marion Ingegneri, Founder & Lead Minister of Ministry Leader Network, offered, "The evil and inhumane acts of terror against Jewish citizens on October 7, 2023, cannot be tolerated. Let us not repeat history by remaining silent. I offer my full voice of support to Israel."
Dr. Michael Brown, president of AskDrBrown Ministries and host of the Line of Fire broadcast, joined "together with my Jewish and Christian brothers around the world in calling for the release of all the hostages taken on October 7th. All of them must be released now. It is the only right and moral thing to do." 
A corresponding effort to the petition and partnership between the Isaiah Projects and Genesis 123 Foundation to distribute yellow bracelets emblazoned with the words "Bring them Home Now" complements the petition drive. David Nekrutman, Executive Director of The Isaiah Projects, shared, "In a time when everyone is protesting against Israel, they are forgetting the hostages in Gaza. This is the most important thing in the world now, to tell the world and to bring them safely home." 
Feldstein added, "The goal is that everyone who signs the petition should wear a bracelet, and everyone wearing a bracelet should sign the petition." Feldstein committed that "Between now and Christmas, anyone who donates $8 or more to the Israel Emergency Campaign, representing the miracles of the eight days of Chanukah, will receive a bracelet." Full text of the petition and a complete and growing list of those offering their support can be found here. For information on getting "Bring Then Home Now" bracelets in bulk or to arrange an interview with Jonathan Feldstein or any of the other global leaders who have signed onto and are promoting the petition, please contact [email protected] 1-201-203-0983 or at www.Genesis123.co.
Photo Courtesy: ©Getty Images/Leon Neal / Staff
Press Release from Genesis 123 Foundation, November 17, 2023.
---
Jonathan Feldstein was born and educated in the U.S. and immigrated to Israel in 2004. He is married and the father of six. Throughout his life and career, he has been blessed by the calling to fellowship with Christian supporters of Israel and shares experiences of living as an Orthodox Jew in Israel. He writes regularly for a variety of prominent Christian and conservative websites and is the host of Inspiration from Zion, a popular webinar series and podcast. He can be reached at [email protected].
LISTEN: 
The views and opinions expressed in this podcast are those of the speakers and do not necessarily reflect the views or positions of Salem Web Network and Salem Media Group.
WATCH: A Prayer for Israel
---